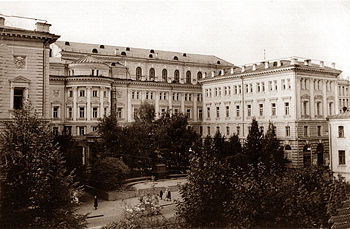 The sumptuous building opposite the church belongs to the Moscow Conservatoire. It was converted from a mansion which was owned bv Yekaterina Dashkova, a lady-in-waiting of Catherine the Great. It was Dashkova who founded the Russian Academy. Later the mansion was owned by General-Fieldmarshal Vorontsov. In the 1870s Prince Vorontsov's house was acquired for the Moscow section of the Imperial Russian Music Society.

The Russian Music Society was founded in Moscow in I860. It was headed by the outstanding musician Nikolai Rubinshtein, who was a real favourite of Muscovite music-lovers. His every public appearance was accompanied by thunderous ovations from delighted audiences, although Rubinshtein was very strict and demanding with his public For example, he forbade entry to the hall after the concert had started, and at first this seemed to be an insult to his public. Nor would he allow people to talk during the performance. He was very hot-tempered, and during rehearsals he would often shout, and he beat time with his baton so hard that he would frequently get through several batons in a day.

On I September 1866 the Society opened a music school in the former house of the Baroness Cherkassova on Vozdvizhenka. At that time the first intake of the Petersburg Conservatoire had just graduated. It had been established in 1862, and one of its first graduates was Pyotr Ilyich Chaikovsky. He was immediately offered a post in the new Moscow school. The restricted premises on Vozdvizhenka soon became inadequate for music lessons, and they were transferred to a house on Bolshaya Nikitskaya.

Between 1885 and 1901 the conservatoire was rebuilt by the architect Zagorsky. The first part to be re-opened in October 1898 was the Small Hall in a wing of the building. The opening concert was entirely devoted to works by Chaikovsky, for it was the fifth anniversary of the composer's death.

On 7 April 1901 the famous Conservatoire Grand Hall was opened with the overture to Glinka's opera Ruslan and Lyudmila. The hall had been decorated with the oval-framed portraits of 14 great composers, including Bach, Beethoven. Glinka, Mozart and Chaikovsky.

In 1954 a splendid memorial to Chaikovsky as one of the conservatoire's founders was put up in front of the building. It was sculpted by Vera Mukhina. From 1940 the Conservatoire has borne Chaikovsky's name, and since 1958 the Chaikovsky International Competitions have been held here.

In the next building at No. 15 in 1919-1921 there was a bookshop of the imagist writers - the shop of the Moscow workshop of artists with words, in which Yesenin worked as a salesman. He was a shareholder and from time to time he would stand behind the counter to promote the literature they were selling. Later. in 1924 he settled in a flat quite nearby at No. 2 Bryusov Lane.